A Reputable Commodity Brokerage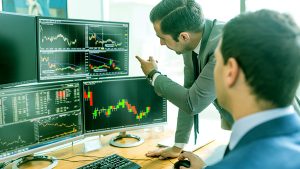 The Waldock name has been involved in the commodity trading industry for three generations. Andy Waldock has been serving as a commodity trader, futures broker, and money manager for 30 years. His deep COT insights, proprietary algorithms and experience are available through a brokerage account with Andy Waldock Trading.
Our brokerage products fit into three rough categories.
Full Service – We'll hold your hand each and every step of the way. Whether you're new or just want someone to track your criteria and contact you upon its actualization, we'll help you in any way we can and any way you'd like. Priced roughly at $75/round turn.
Broker Assisted – You know what you'd like to do but would like help in execution as well as the overall monitoring of your account's positions and value. We'll help ensure your positions match your strategy. This is a great option for those subscribed to our COT Signals program so that you can review your trading strategy and ask account management questions. Priced roughly at $45/round turn.
Discount – This is the general category for clients who manage their own accounts, used most frequently by professional traders through general retail. We accept a limited number of accounts, and prices are determined on a case-by-case basis. Our day trading programs include $20 round-turn commissions in their performance calculations at Striker. Striker executes day trading algorithms for Andy and the money he manages. Many of these remain private and are only available through Andy Waldock Trading. Generally, commission is between $15 – $35/round-turn.
We know you can find cheaper brokerage and that we cannot compete with the discount houses based on price. But we truly believe you get what you pay for. Our customer service, industry experience, and personal relationships keep our customers coming back – often over many generations! We know that you will not regret giving us an opportunity to show you why we've been able to stand the test of time.