Leveraging the Resources of the World's Biggest Traders
COT Signals is your discretionary commodity trading strategy provider for 35 domestic futures markets. We provide the setup, the entry signal, and the protective stop price. You determine when to take profits.
The COT Signals methodology tracks the largest commercial traders via the Commodity Futures Trading Commission's Commitment of Traders weekly report. The proprietary insights gathered from our analysis of this information is provided to you in a worksheet you can use to manage your own commodity, forex and commodity-based ETF trades.
Seasonal COT Signals focuses on trades lasting less than 30 days with a strong focus on risk control. You'll get a preview with the expected risk, profit, and holding period of every seasonal trade Andy expects to place. You'll then be updated nightly with any changes to the protective stop order as well as when it is time to exit the trade.
$45/Month
Weekly COT Signals uses many of the same factors as the daily analysis but provides longer timeframes (three to five weeks) with fewer trades. Because the conflict between commercial and speculative traders is larger, the swings are larger. The size of the weekly swings also makes them adaptable to commodity- based ETFs like GLD & USO
$45/Month
Daily COT Signals is the most sensitive product and typically holds trades for just 3 to 5 days. The nightly email examines turning points and reversals from the commercial traders' anticipated direction and attempts to profit from failed speculative trends as the market returns to its value area. Protective stop losses are placed at the market's recent extreme price
$75/Month
How Does it Work?
COT Signals is based on a simple three-step process designed to make money on markets that are overextended compared to their value area. The value area is determined through the purchases and sales of the commercial traders that produce or consume the given commodity.
Step One
The Commitment of Traders report breaks down the market's players into four main groups:
Commercial Hedgers – Producers or, consumers of a given commodity.
Non-Commercials – Typically commodity funds, including Commodity Index Funds.
Large Speculators – Commodity Trading Advisors as well as large traders.
Small Speculators – Exactly what the name implies.
For our purpose, the commercial hedgers are key. Our idea is that, in a value-driven futures market, no one knows fair value like the people who produce it or have to use it. If commercial hedgers are buying in to guarantee future supplies at a current price level, we'll be buying as well. Conversely, if commodity producers' forward selling of planned production is the dominant feature of the markets, we'll be on the sell side.
Step Two
We use a proprietary short-term momentum filter to determine if a given market has reached overextended levels. We look for conflict between short-term market momentum and the commercial traders' market momentum. This sets the trigger.
Step Three
Once our short-term momentum indicator signals a reversal back in line with commercial trader momentum, our trade is triggered. This creates a new position in line with the commercial traders' momentum. The swing high or low created by the market's short-term overextension will provide us with the protective stop point. Finally, we take profits upon the market's return to its value area.
How Do I Use It?
Using this data, we provide a simple worksheet that looks like the example below. It distills all of our analysis into a simple report that tells you exactly when to buy, sell, and stay out. Hover over the pointers on the column headers to see how to use the information provided.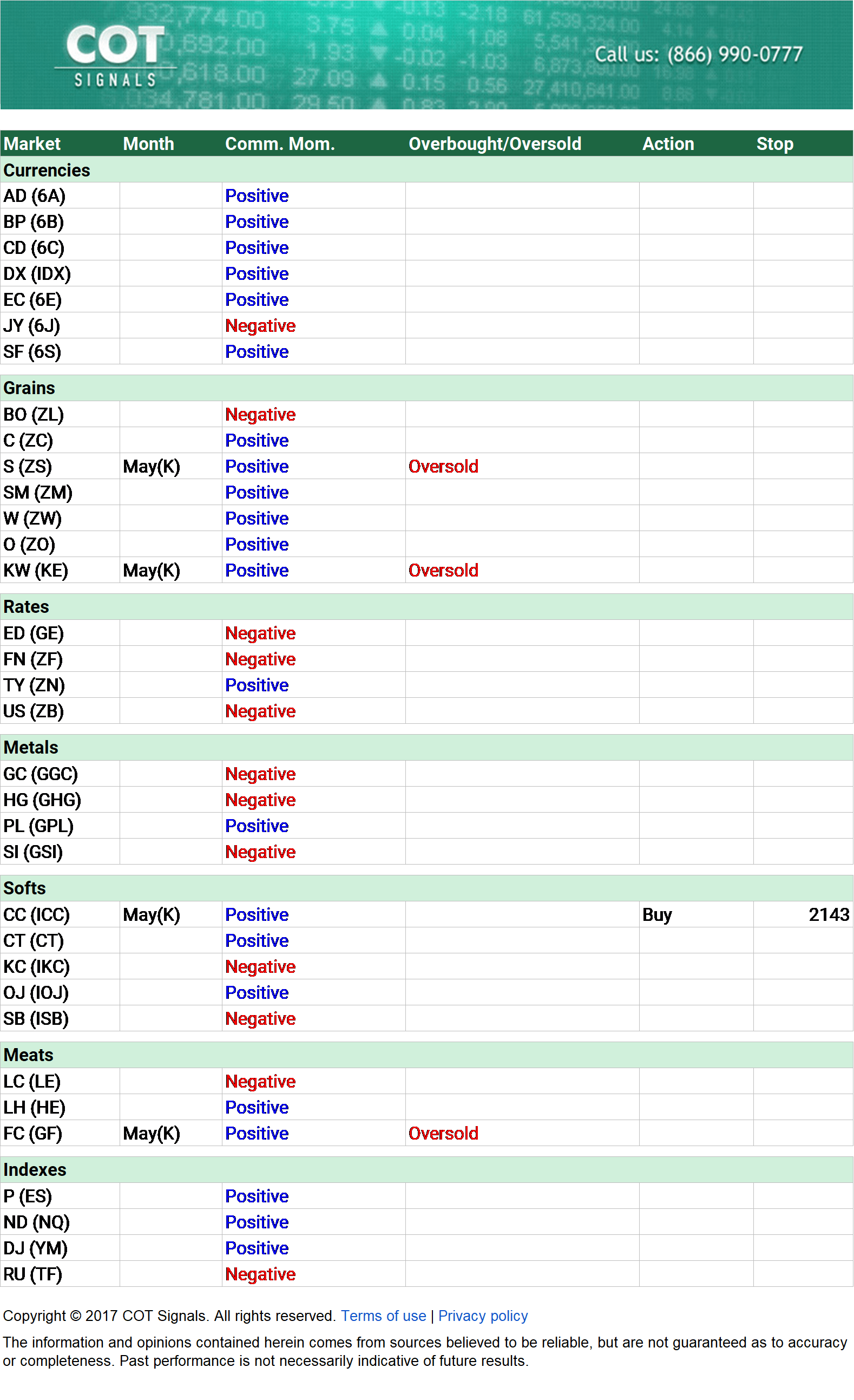 Additional Information
Start Your Free Trial
COT Signals email archives for Daily, Weekly & Seasonal analyses
Unlimited access forever
No credit card required!